Stay warm with our furnace repair options.
When it gets cold here in the Morganton, North Carolina area, it can chill you to the bones! When you combine our cold winters with the humidity in the air, it is a great feeling to come home to a warm home heated by your furnace. However, when your furnace isn't working, it can be very distressing. Here at Lonon Heating, A/C and Air Quality, we want to make sure your furnace is always ready and working for you. If you are in need of a furnace repair, we are ready to get to work.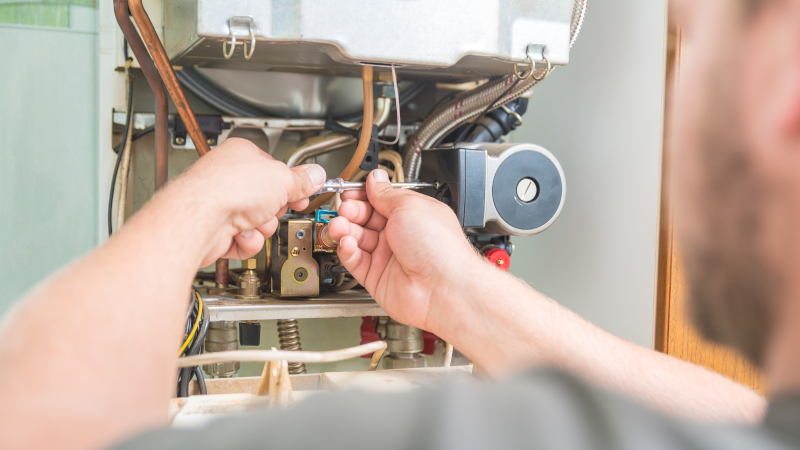 When you contact our team for furnace repair, we are confident that we will be able to solve your issue. Because we have been working on HVAC systems of all different types and brands for over 15 years now, we are confident that we have the experience you want for your next furnace repair. Additionally, all that experience has given us the skills and abilities to get your repair done in a timely fashion while also keeping up with the highest-quality service.
Our team will thoroughly and efficiently comb over your furnace, but that isn't the only thing that makes our team exceptional. We are first and foremost there to help you– not to take advantage of your vulnerable state. We don't believe in upselling customers on repairs that they don't need or offering options that will not be of long-term benefit to you. If there is a simple, cost-effective fix that can be made, then we will make it! If you would not benefit from a replacement over a repair, then we certainly will not try to sell you on the costlier option. We take the needs of our clients into account and pride ourselves on being honest and reputable for our customers.
If you have a furnace that isn't working or isn't working like it should, please give our team a call today to learn more about our furnace repair services.
FAQs About Furnace Repair 
If your furnace breaks down, then you will naturally want to get it repaired right away, and our team at Lonon Heating, A/C and Air Quality is here to provide the expert services you need. We understand that you probably have questions about our furnace repair services, so we have put together the answers to some of our most frequently asked questions on the topic below for you to have a look at.
What are some warning signs that I need furnace repair?
If your furnace is struggling, you'll likely notice one or more of the following signs:
The air blowing through your vents is cold or lukewarm
The airflow through the vents is very low
Your system will struggle to maintain your desired temperature
Your system will short cycle, turning on and off frequently
The furnace will make loud noises when on
Your heating bills will rise significantly.
What are some common furnace problems?
In our experience, the most common issues that require furnace repair are faulty ignitors, malfunctioning thermostats, and bad blower motors. You will also need furnace repair if your burner is dirty or the flame sensor malfunctions.
Is it better to repair my furnace or replace it altogether?
In some cases, furnace repair reaches a point of diminishing returns, and it's better in the long run to replace your furnace with a new model. If your system is approaching 15 years old (or is already older), or if the repair bill costs over half the price of a new furnace, we recommend replacing it. In most other cases, furnace repair is the better option.