You can rely on the technicians at Lonon Heating, A/C and Air Quality for regular furnace maintenance.
Maintenance is important for many of the products and systems that you rely on every day. Your vehicle runs better when you keep up with regular oil changes and other important services. The same is true of your heating system, which needs regular maintenance to continue to operate properly and maintain a comfortable indoor atmosphere. Furnace maintenance should always be handled by a skilled technician who knows what to look for and how to safely inspect the unit. If your home is in the Hickory, North Carolina area, you can rely on the technicians at Lonon Heating, A/C and Air Quality for regular furnace maintenance.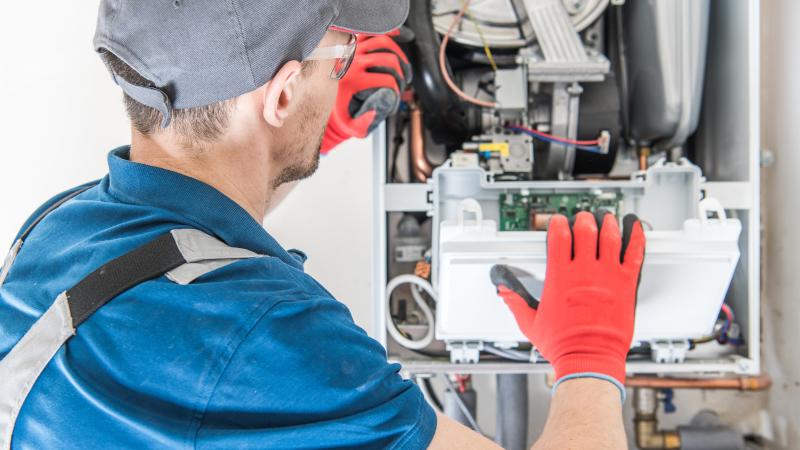 When we perform a maintenance service on your heating system, we'll start by inspecting the critical components to ensure that they're working properly. The next step is testing the airflow and the system's ability to bring the indoor temperature up to the level set on the thermostat. We can perform some light cleaning of the unit where dust and debris tend to collect, as well as replace the filter to prevent contaminants from moving through the air you breathe.
If we spot anything that needs to be repaired or replaced during your furnace maintenance service, we can take care of it right away. You can move into the next cold season feeling confident that your furnace can keep up with the changing climate conditions to maintain a comfortable indoor atmosphere. Invest in your home's heating system by scheduling a furnace maintenance service with one of our technicians during the upcoming fall season.
FAQs About Furnace Maintenance
Our team at Lonon Heating, A/C and Air Quality wants to help you stay warm and comfortable during the winter months, and to do that, we offer a wide range of heating services, including furnace maintenance. We have collected some of our most frequently asked questions about this subject below for you to check out, and we hope these answers help you make the best choice for your home and its heating system.
What does furnace maintenance involve?
Our furnace maintenance services start with a thorough inspection of your furnace and all its components to check for possible issues. If we find anything to be concerned about, we will make any necessary adjustments to prevent the problem from getting worse. We'll also lubricate the system to ensure that all the parts can deliver optimal performance.
Is furnace maintenance really worth it?
Absolutely, yes. Although professional furnace maintenance services cost more than just leaving your furnace alone and hoping for the best, they cost much less than emergency repairs or a full replacement, and they will also extend the lifespan of your system and save you money in the long term. In addition, having a well-maintained furnace that doesn't break down on you also means that you and your loved ones won't have to face any cold nights as you wait for repairs.
How often should I get furnace maintenance?
We recommend that you have our technicians service your furnace every spring and fall. If for some reason you can't schedule two appointments, we strongly encourage you to at least make room in your schedule and budget to have it serviced once a year.